Four Recipes from Anna Trapido's Hunger for Freedom
Anna Trapido, author of Hunger for Freedom: The Story of Food in the Life of Nelson Mandela, writes about her book for the UK's Guardian newspaper – and supplies four recipes (see below for links):
Hunger for Freedom traces Nelson Mandela's journey in food reminiscences and recipes from the corn grinding stone of his Mvezo birthplace and simple dishes like umphokoqo through wedding cakes, prison hunger strikes and presidential banquets into a retirement deliciously infused with the Mozambican seafood dishes of his third wife Graça Machel.

In the course of the research for my book I tracked down the former South African President's schoolboy contemporaries who put on a traditional Xhosa rural feast for me. I shared biscuits and memories of teenage dinner dates with his first girlfriend. I made his favourite spaghetti recipe with Winnie Madikizela-Mandela as she told of a great love lost and thwarted. I wept through ex-prisoners' descriptions of Robben Island prison rations and roared with laughter at his grandchildren's tales of the great man's fondness for Frosties breakfast cereal.

There were Christmas cakes with former jailers and crab curries with comrades past. I was very pregnant throughout much of the research process and to hear Nelson Mandela reminisce about chicken recipes (and offer to deliver the baby) was a huge privilege and an absolute joy.

Looking at Nelson Mandela's personal and political history from the vantage point of the kitchen offered up hitherto unrecorded insights into a man and the society in which he came of age. In apartheid South Africa every dish was served against a backdrop of racial oppression. In the 1950s parties given by anti-apartheid activists saw drinks served in very short tots so as to ensure that if the police raided the event black people would not be found engaged in the illegal act of consuming alcohol.
Recipes from Hunger for Freedom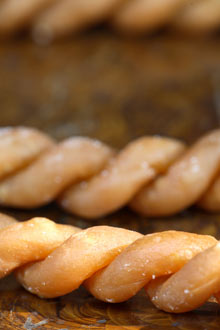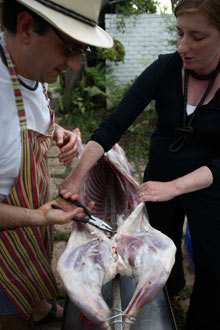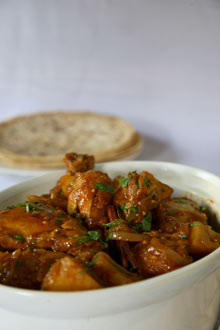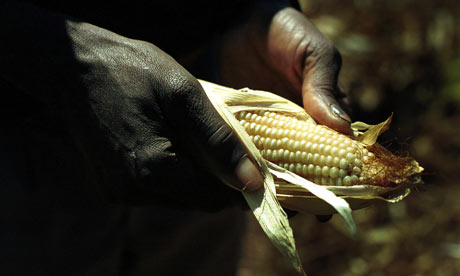 Book details
Photos by Richard Goode courtesy the Guardian