Ashraf Kagee Discusses His EU Literary Award-winning Novel, Khalil's Journey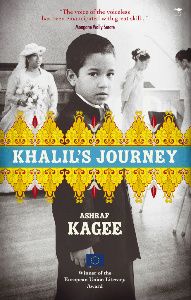 Stephanie Nieuwoudt spoke to Ashraf Kagee to find out more about his novel Khalil's Journey, which recently won the 2011/12 European Union Literary Award. Kagee tells her that Khalil's Journey is the story of "one man's journey through the 20th century in which he experiences the two world wars, the Depression, the rock 'n' roll era, the Soweto riots, the Information Scandal and the rise in terrorism":
Professor Ashraf Kagee, from the Department of Psychology in the Faculty of Arts and Social Sciences at Stellenbosch University, is a highly esteemed researcher. But now he can add another feather to his cap – that of award-winning literary author.

Kagee won the 7th European Union Literary Award for non-published fiction for his novel, Khalil's Journey (Jacana).
Book details