Nozuko Poni Interviews Thando Mgqolozana, Author of Hear Me Alone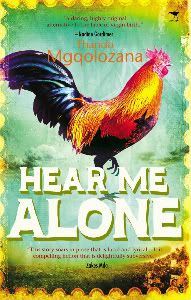 Nozuko Poni of Unbranded Truth spoke to Thando Mgqolozana, author of Hear Me Alone, about the controversies his writing often raises:
Nozuko Poni: Who is Thando Mgqolozana?

Thandi Mgqolozana: I'd like to think of myself as an ordinary, big hearted underachieving rural bumpkin who enjoys reading books and pretends to be writing stuff that other people may read, which they don't.

NP: What is your earliest memory of literature?

TM: My maternal uncle was a teacher, and I say 'was' because I don't know what he is now; possibly nothing, like my dad. So this guy was a teacher and read a lot. His big books, his name appended on the inside cover of all, were all over the place in our village home. You might imagine that I'm about to say he inspired me, he didn't; I didn't like him. But that's my earliest memory of literature. At school I remember the title of a certain poem and its author. I think the musical way we began reciting the poem is what moved me; we said, 'Children's Rain Song, by Musaemura Bonas Zimunya…' then I'd go blank. But then came the year, much later in school, when I read Troubled Waters by Joseph Diescho. This was in the final year of school. I read this book several times, for pleasure, and I have never stopped reading since then.
Book details