Ashraf Kagee and Imraan Coovadia Discuss Khalil's Journey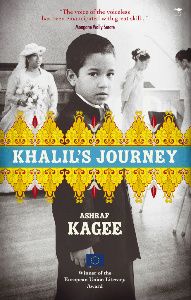 Imraan Coovadia was in conversation with Ashraf Kagee, author of Khalil's Journey, at the book's launch held on 19 June at Stellenbosch University. SLiPNet's Wamuwi Mbao attended the event and wrote about the discussion between these two authors:
Khalil's Journey, the debut novel of Ashraf Kagee, is an enigmatic and beguiling work, a novel that has large things to say about little moments in time. Its protagonist is positioned at the apex of the Cape Malay and Indian cultures and the novel traces the span of his 80-odd years of life across the 20th century. It has been lavished with praise of a mostly untempered nature, hailed for its attention to textures and celebrated in ways that suggest that, once more, this is The Novel We're Looking For.

All that being as it may, Stellenbosch University's Psychology Department hosted a conversational event where Kagee riffed in supple fashion about his inspirations, his literary musings and everything else that matters when we talk about literature. He was ably assisted in this endeavour by Imraan Coovadia, a novelist in his own right, to whom the Academy pays obeisance in the form of a Creative Writing post at the University on the Hill.
Book details
eBook options – Download now!
---