Melissa Meyer and Helen Struthers Launch (Un)covering Men with HIV&Aids Media Project Fellows

The launch of (Un)covering Men: Rewriting Masculinity and Health in South Africa co-edited by Melissa Meyer and Helen Struthers was a well-attended event at the 6 Spin Street Restaurant.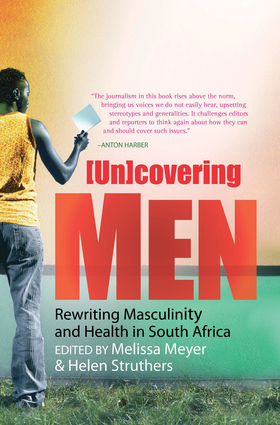 The book is an outcome of the HIV&Aids Media Project, with resulted from ongoing collaboration between the Anova Health Institute, Wits Journalism, Johns Hopkins, USAID and PEPFAR.
Meyer and Struthers were joined by Willemien Brümmer and Pieter van Zyl, two fellows of the programme who shared their remarkable experiences whilst undertaking their research.
Meyer, co-ordinator of the HIV&Aids Media Project, commenced the evening's discussion. She said the primary goal had been to look beyond the "tired, one-dimension images of men typically seen in the press" and to uncover a more layered, meaningful and nuanced understanding of men's experience.
The contributors to (Un)Covering Men have attempted in their essays to write "differently" about men. She said this had brought very interesting results to the fore. "The conversation that opens up when one writes differently – and about different types of men – results in a reconsideration of the tired stereotypes of men as Lotharias, risk-seekers, domineering and insensitive, and how that informs their health-seeking behaviour," she said.
"We've put that notion in the context of the most pressing health concern in the country, which is also the health concern most directly linked to manhood and sexuality, HIV," said Meyer. "Against the backdrop of the current media coverage of men, using thorough analysis of the media's engagement with and representation of notions of masculinity, we have concluded that this is either non-existent or rather shallow."
Meyer said that the book's primary aim was to challenge conventional and unhealthy images of men and to put forward notions of masculinity that promote insight and empathy for the various roles men play in love, family, culture and society as a whole.
* * * * * * * *
Liesl Jobson tweeted from the launch using #livebooks:
Editors Helen Struthers & Melissa Meyer at the launch of (Un)covering Men. #livebooks @hivandthemedia @jacanamedia twitter.com/LieslJobson/st…

— Liesl Jobson (@LieslJobson) August 29, 2012
Melissa Meyer @hivandthemedia says we're fascinated by men: ranting, raving or lusting! Tired of unidimensional images of men. #livebooks

— Liesl Jobson (@LieslJobson) August 29, 2012
Meyer: thorough analysis of media engagement with men. Often shallow. Journo contributors write with nuance on the topic in book. #livebooks

— Liesl Jobson (@LieslJobson) August 29, 2012
Meyer: Project's work includes annual fellowship for journalists wanting to do in depth research. @hivandthemedia. #livebooks @jacanamedia

— Liesl Jobson (@LieslJobson) August 29, 2012
Struthers: Anthology aims to track how HIV/AIDS has progressed. Journalism is so fleeting. Book collects temporary words.#livebooks

— Liesl Jobson (@LieslJobson) August 29, 2012
Anova Health Institute, Wits Journalism, Johns Hopkins, USAID, PEPFAR have collaborated in HIV&AIDS Media Project. #livebooks

— Liesl Jobson (@LieslJobson) August 29, 2012
Willemien Brummer found it easier to speak to women. They want to speak about love & sex. Started 2005 research wi HIV pos moms. #livebooks

— Liesl Jobson (@LieslJobson) August 29, 2012
Brummer: When women tell partner they are HIV pos they are abandoned. I wanted to understand why this happens from empathic POV. #livebooks

— Liesl Jobson (@LieslJobson) August 29, 2012
Van Zyl looked at gay men coming out after 40. Guys having unprotected sex, lost to safe sex conversation. #livebooks @hivandthemedia

— Liesl Jobson (@LieslJobson) August 29, 2012
PVZ: What makes a story sexy? Popular magazines want soapie star. Difficult to sell story. Want to open minds to MSN. Educational #livebooks

— Liesl Jobson (@LieslJobson) August 29, 2012
Brummer: News print under duress. Journos told to write sensationally. Editors don't want disease in headlines. #livebooks @hivandthemedia

— Liesl Jobson (@LieslJobson) August 29, 2012
* * * * * * * *
Facebook gallery
Book details