Dear Edward: Family Footprints by Paul Weinberg Launched at Adams Books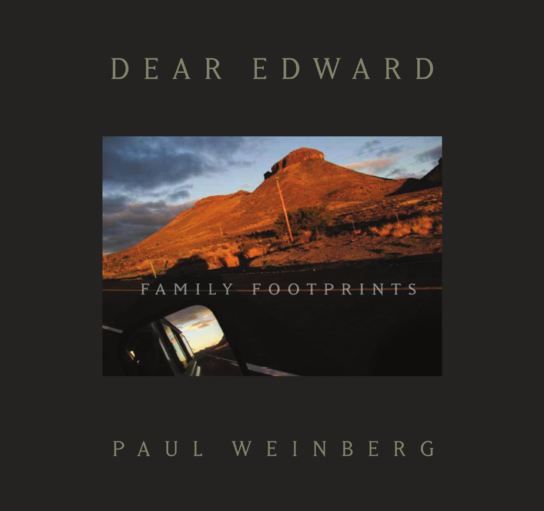 The title of Paul Weinberg's most recent collection of photographs, Dear Edward: Family Footprints stems from his fascination as a child with a black trunk his family kept, in which he found memorabilia such as photographs and postcards, often written in a foreign language. These were mementos from the time his family came to SA as refugees from Russia in the 1800s.
As an adult, Weinberg explained in conversation with arts journalist Peter Machen at the launch of Dear Edward at Adams Bookshop, he embarked upon a photographic interrogation of his family history. Weinberg's great grandfather, who came to live in the small town of Philippolis, is the "Edward" of his book's title. He explained that the trunk became a metaphor for his interest in "raiding" his family history.
Peter Machen observed that there are many pictures of hotels in the book, and Weinberg replied that his family, who were Jewish, have long been associated with hotels, and that for him they are a symbol of community. He said how sad he was to see some of them being torn down, "probably never to be replaced".
Weinberg spoke of how much he enjoyed being "out there, on the road", explaining that for him writing the book became an excuse for travelling. He described visiting Edward's grave in Pioneer Park Cemetery in Kimberley and how upset he felt when he discovered the tombstone had been desecrated.
He said he feels he owes it to his family to tell his story, which he admitted was an odd one – his family found solace with the Boers, who they were loyal to in the Anglo-Boer War. He said he thinks what binds South Africans most is that "we have stories to tell about living in this uncomfortable paradise, SA". He said he was sad that post-apartheid SA has lost the spirit it had during the struggle against apartheid, "we should have bottled it".
Weinberg said that after having spent a year on a scholarship at Duke University in the US, the primary difference between Americans and South Africans as regards their attitudes towards local history is that the "US celebrates its history, while SA does not".
He explained that there is a disaggregated logic to the order of the photographs in his book, so that they form a visual narrative, rather than one arranged town by town. He said he had used a "mik and druk" (a Cannon G12) which took good quality pictures, even though it was by no means "David Goldblatt".
Professor Jeff Guy, historian, asked Weinberg whether he thought that the Jewish contribution to the liberation struggle in SA had been romanticised. Weinberg replied that the "survival instinct of my family was to assimilate, and take the side of the establishment, which made them conservative. However, there were other Weinbergs who saw beyond survival – which made their clan complex and confused, like everyone".
Facebook gallery
Book details