Steven C Dubin Talks to Pippa Skotnes About Culture Wars at the Launch of Spearheading Debate

Last Thursday at The Book Lounge saw the launch of Spearheading Debate by Steven C Dubin, with Pippa Skotnes, fine arts professor at UCT leading the discussion. The talk was introduced with a snippet from Dubin's website: a quote which states that throughout his professional career, Dubin has been consistent in his "interest in examining the interplay between the arts, ideology and power and the tension between creative freedom and social control".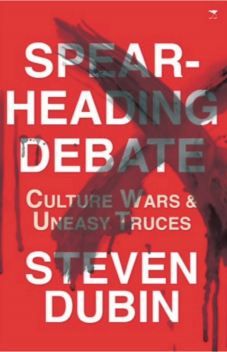 In Spearheading Debate Dubin explores how the gallery serves both as a public space and a place of potential controversy. He looks at the interplay between artists and the social environment and assesses the type of stimuli that people react to. As Skotnes explains, Dubin examines "the changing nature of museums, representation and display in South Africa" and "the difference between museums and galleries and the way that, in some cases, galleries have been inheritors of colonialism."
Skotnes then discussed how Dubin regards "the relationship between what is seen as a threat to people's values and the power that is marshalled in order to confront that threat". Despite what the title may imply, this book is not specifically about "The Spear", Brett Murray's painting of Jacob Zuma that was recently defaced and caused great controversy. The book covers a wide range of topics from music to art and media.
Dubin said the term "Culture Wars" was coined by James Hunter in 2001. According to Dubin, Hunter defined the concept as "incompatible world views of people who are promoting orthodoxy with progressivism". He expanded on this notion by saying, "it's a little more polite to bash art than it is to bash people the art represents". Furthermore, despite how "disruptive" culture wars can be, Dubin said he feels that "culture wars draw the toxins out of the surface and force people to confront the fault lines in a particular society". He went on to say, "There's virtually nothing I wouldn't defend, except of course if it was a crime".
Dubin says that living in a free democracy and creating dialogue is essential. "I think to live in a democracy you have to have a thick skin", he said.
"There's nothing inherently offensive about something at one particular time," said Skotnes later on in the discussion, "but it can become so". She reflected on how the "The Spear" could be seen as a "ventriloquist's doll" and how there were different people making it speak.
Skotnes asked Dubin whether one could predict a culture war. Dubin responded by arguing that, "We are probably as good at predicting culture wars as we are predicting earthquakes". He also spoke about "uneasy truces", explaining that cultural debates do not come to an end as there are always aftershocks… However, the upshot of culture wars is that they can trigger the sort of cultural dialogue around art, space, politics and culture that is essential to a free democratic society.
Facebook galery
Book details