Alex Lichtenstein Commends Marikana for Giving the Miners a Voice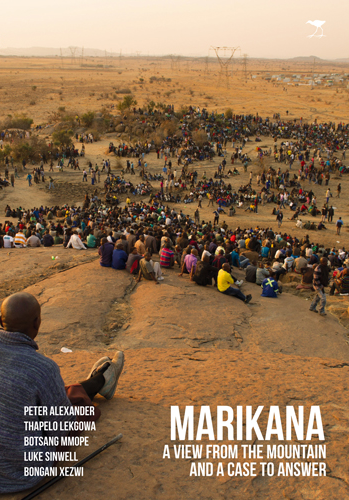 Alex Lichtenstein has reviewed Marikana: A view from the mountain and a case to answer for the Los Angeles Review of Books. He calls the book a "courageous independent investigation of Marikana" and says that it is extraordinary for many reasons, one of which is its demonstration of what academics and activists can achieve when they work together.
Lichtenstein talks about the importance of capturing the oral histories of the miners in a timely fashion, before the official statements from various parties are used to form a dominating narrative of the events. He says that the book "offers the most detailed reconstruction to date of the events leading up to and including the massacre of August 16″ and that it "speaks directly to a longstanding debate in South Africa about the nature and exercise of working-class power".
Less than five months after South African police shot down 34 striking miners at Marikana, North West Province, on August 16, 2012, life goes on in South Africa, although perhaps it would be an overstatement to say that things have returned to normal. As Peter Alexander and his colleagues note in their stunning and timely postmortem investigation of the massacre, in South Africa "one has to go back to the Soweto Uprising of 1976 to find an example of government security forces murdering more protestors than at Marikana."
Book details
Marikana: A view from the mountain and a case to answer by Peter Alexander, Thapelo Lekgowa, Botsang Mmope, Luke Sinwell, Bongani Xezwi
EAN: 9781431407330
Find this book with BOOK Finder!