Bill Nasson's South Africa at War, 1939 – 1945 Launched at Protea Bookshop Rondebosch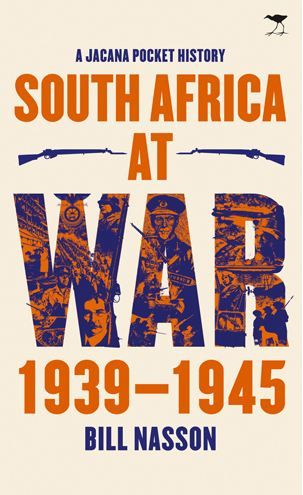 South Africa's experience during the Second World War has not received a lot of attention in history books, but Bill Nasson's South Africa at War, 1939 – 1945, launched on Saturday at Protea Bookshop in Rondebosch, seeks to remedy this situation.
In local history writing, WW2 is seen mostly as the background to other developments, for example the rise of Afrikaner nationalism, Nasson explained at the launch.
In the most recent international tomes on WW2, such as Antony Beevor's The Second World War, South Africa is scarcely mentioned. "Compared to Beevor's book mine looks anorexic," Nasson jokingly said of his slim volume, part of Jacana Media's Pocket Series. However, the difference is that Nasson's book focuses entirely on South Africa's experience – military, political, economic and social – during WW2, showing the deep impact that the war had on South African society.
Nasson, born in 1952, the immediate post-war generation, grew up with the spectre of the war still hanging over the country. He shared with the audience his memories of the cars with WW2 badges he admired as a boy, the photo his mother had of two French sailors standing in their garden and her admonitions that he should eat all the food on his plate because she had experienced wartime scarcity.
Weaved into Nasson's account of South Africa's involvement in WW2, are references to interesting people and circumstances that he associates with the period, for example General Hertzog, General Smuts, Ouma Smuts, Oswald Pirow, Just Nuisance, rice queues, Italian prisoners of war and the author JJR Tolkien who was a trained codebreaker.
Nasson dedicated his book to the late author and academic Stephen Watson and managed to add a passage on walking boots, which Watson, an avid walker, would have appreciated.
In the postscript Nasson writes about Clarks desert boots, which are based on a design that Nathan Clark picked up from WW2 soldiers in South Africa – probably one of SA's least acknowledged wartime contributions! It is a brand of shoes that is still being worn worldwide today. In fact, Nasson was wearing a pair of Clarks at the launch.
The piece on Clarks boots also afforded Nasson the opportunity to work a reference to Bob Dylan into his book, as Dylan also wears these shoes. "So this is a book on South Africa and WW2 with Bob Dylan in the index," Nasson proudly stated. "If you buy it for no other reason, buy it for that!"
* * * * * * * *
Carolyn Meads livetweeted from the launch using #livebooks:
Bill Nasson at the launch of his new book South Africa at War 1939-1945 (@jacanamedia ) in Rondebosch #livebooks twitter.com/carolynmeads/s…

— Carolyn Meads (@carolynmeads) February 2, 2013
Nasson remembers admiring cars with WW2 badges as a boy #livebooks

— Carolyn Meads (@carolynmeads) February 2, 2013
Nasson also remembers his mother's photo of two French WW2 sailors, who were stuck in CT. #Like

— Carolyn Meads (@carolynmeads) February 2, 2013
Nasson recalls his mother telling him to eat all the food on his plate because there was still a sense of scarcity from WW2 #livebooks

— Carolyn Meads (@carolynmeads) February 2, 2013
SA's WW2 war experience covered very little in history books. Always seen as background to other developments eg Afr nationalism #livebooks

— Carolyn Meads (@carolynmeads) February 2, 2013
Some of Nasson's associations with WW2: Gnl Hertzog, Smuts, Just Nuisance, Rice Queues, Italian prisoners of war, JRR Tolkien #livebooks

— Carolyn Meads (@carolynmeads) February 2, 2013
Nasson dedicated book to late Stephen Watson – a devoted addict of Leonard Cohen, great walker. Nasson put in story on shoes #livebooks

— Carolyn Meads (@carolynmeads) February 2, 2013
Nasson: Tried 2 work Leonard Cohen into book – failed. But did get Bob Dylan in! A book on SA war with "Bob Dylan" in index! #livebooks

— Carolyn Meads (@carolynmeads) February 2, 2013
Nasson reads postscript to South Africa at War on Clark's desert boots – worn by Bob Dylan, also by Nasson himself! #livebooks

— Carolyn Meads (@carolynmeads) February 2, 2013
Nasson talks about interesting figures in SA WW2 eg Oswald Pirow, a boxer, swimmer, lover of Germans. New biography would be nice #livebooks

— Carolyn Meads (@carolynmeads) February 2, 2013
And so the discussion comes to an end. For more on the interesting details of SA & WW2, you'll have 2 buy the book #livebooks

— Carolyn Meads (@carolynmeads) February 2, 2013
* * * * * * * *
Facebook gallery
Book details