Christopher Webb Gets to the Heart of Marikana: A view from the mountain and a case to answer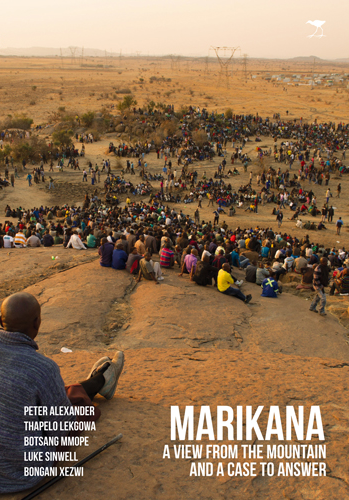 In a post for Africa Is a Country, Christopher Webb reviews Marikana: A View From the Mountain and a Case to Answer and finds that it "proves, beyond a shadow of a doubt, that NUM, the police and Lonmin management are to blame for the slaughter".
Webb delves into the details of the book and shows the meticulous research and interviewing skills that went into collecting a rounded view of events, from the six weeks following the shootings. He says that the authors of the book note that it would be an introductory tome for future researchers. What the book notes is stark: "From worker testimony, it is clear that what ensued is nothing short of premeditated slaughter, as the majority of those killed were hunted down across the veldt. "People were not killed because they were fighting," notes one striker, "they were killed while they were running away.""
The day after the police shot 34 miners at Marikana a small group gathered outside the gates of parliament in Cape Town. Barely 100 people, holding signs calling for answers and justice, we marched to the police station on Buitenkant, across from the District Six Museum, to deliver a petition calling for the arrest of Nathi Mthethwa, National Chief of Police. The march, for South African standards, was small and made stranger by the fact that few joined us as we passed the rush-hour crowds outside Cape Town station. Commuters looked away as they rushed to their taxis. Later that day I went to a dinner in the very-white, very-gated southern suburbs where the massacre was discussed as if it were a police briefing: a violent mob of uneducated thugs, fuelled by muti and brandishing all manner of weaponry had attacked police who responded with necessary force. A local ANC activist expressed similar sentiments to me a few days later, as he urged me not to place blame until truth had been established.
Book details
Marikana: A view from the mountain and a case to answer by Peter Alexander, Thapelo Lekgowa, Botsang Mmope, Luke Sinwell, Bongani Xezwi
EAN: 9781431407330
Find this book with BOOK Finder!