Joanne Joseph Tells Vanessa Goosen's Story in Drug Muled: Sixteen years in a Thai prison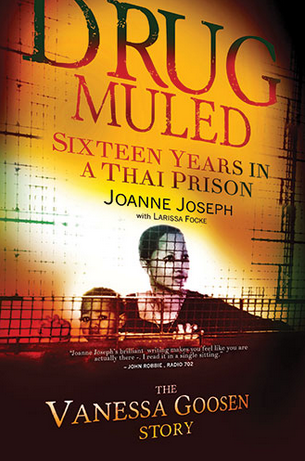 New from Jacana, Drug Muled: Sixteen years in a Thai Prison by Joanne Joseph with Larissa Focke:
On the verge of a big break in modelling, Miss SA finalist, 21-year-old Vanessa Goosen is caught up in every traveller's nightmare. Duped into carrying books with 1.7 kilograms of heroin hidden in them, Goosen is arrested and tried on drug trafficking charges.
Deaf to her pleas of innocence, the Thai courts sentence Goosen to death. On appeal her sentence is commuted to life, to be served in Bangkok's notorious Lard Yao prison.
Pregnant, terrified and desperately alone, Goosen begins a harrowing 16-year journey behind bars. Forced to part with her beloved daughter three years later, Goosen's story traces the joy and hurt of motherhood behind bars, the depression that comes with long-term incarceration and separation, and her return to a hugely changed South Africa in 2010.
About the author
Durban-born Joanne Joseph is a familiar face to South African viewers, having presented television news for the past fifteen years. In her current role as afternoon news anchor on 24-hour news channel, eNCA, Joseph interviews many high-profile individuals and brings viewers regular updates on national and international stories and breaking news. She is most passionate about finding the human angle that moves beyond the facts and figures of a story and finds the extraordinary stories of ordinary women intriguing. Joseph has a Master's degree in literature from Wits University. This is her first book.
Book details