Introducing VuvuzelaNation: A Collection of Zapiro's Iconic Sports Cartoons from 1995 to 2013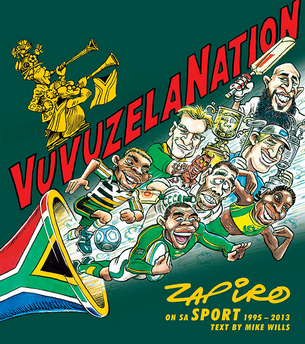 VuvuzelaNation is a collection of more than 200 iconic cartoons from the nation's sharpest bestselling cartoonist telling the curious, glorious, calamitous and chaotic story of sport in the New South Africa.
With incisive text from journalist Mike Wills, this new Jacana title provides a keen-eyed, irreverent look at everything from Kamp Staaldraad to Bok World Cup glory, from cricketing chokers to champions, from SAFA bungling to the emotional success of the 2010 FIFA World Cup.
An extraordinary cast of colourful sporting characters has been captured by the pen of Zapiro over the past twenty years – Louis Luyt, Hansie Cronje, Caster Semenya, Herschelle Gibbs, Benni McCarthy, Bryan Habana, Lucas Radebe, Peter de Villiers and Oscar Pistorius among them – and this book promises a comprehensive and entertaining look at our nation's favourite pastimes.
About the author
Zapiro is Jonathan Shapiro. Born in 1958, he survived school in Cape Town, architecture at UCT, conscription, activism, detention and a Fulbright Scholarship to New York before finding himself, and starting to irritate public figures, as South Africa's best known cartoonist. He has worked for the Mail & Guardian since 1994, the Sunday Times since 1998 and has contributed to many other major newspapers. He has published seventeen best-selling annuals and The Mandela Files. In addition to numerous local and international cartooning accolades, Zapiro has won the SA Comedy Award and Vodacom Journalist of the Year, and been awarded an Honorary Doctorate in Literature.
Born in Sydney and a history graduate from Cambridge University, Mike Wells occasionally finds ways to turn his obsession with sport into something resembling paid work. He provided a wry weekly sports column for the Saturday Cape Argus for 11 years and is the author of The Cycle Tour. He lives in Cape Town from where, with unrequited passion, he follows Spurs, Ajax, the Stormers and the Cobras. He is also a regular current affairs radio talk show host on 567 Cape Talk and Talk Radio 702 and sometimes crosses over to the dark side to work in advertising & PR.
Book details