Hillary Rohde's Memoir, The Other Side, Launched at The Book Lounge
"It's sad, it's funny, this yarn will have you in stitches!" So said Sebastian du Plessis at The Book Lounge earlier this week when he introduced and welcomed Hillary Rohde, new author and former knitwear designer. In her memoir, The Other Side, Rohde, who grew up in South Africa, tells a wry story of how she came to be a woman of the world. The book covers the adventures that eventually saw her building an international knitwear empire and losing it.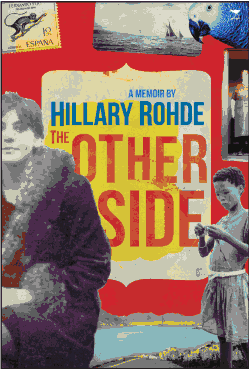 Rohde went to the UK as a young adult to study art. She soon found herself in the company of "the aristos", high society gypsies who meandered the country on beautiful horses.
She told a hilarious tale of how she bought a horse unwittingly at an auction. She got carried along thinking, What fun! "But after the sale, when I calmed down, I tried to explain that I didn't really want a horse. I said I hadn't really understood. I said I lived in London. 'I can't possibly have a horse.' The auctioneer said, 'Lady the horse is yours. Please pay for it and arrange to transport it out of here. You have until close of day…'"
She had the horse delivered to a large estate in Cornwall where the rest of the crowd of aristos hung out. "They were all titled, all very rich, and were in many ways like the gypsies we travelled with occasionally too. The gypsies were outside the law but the aristos saw themselves as above the law. As soon as they introduced themselves as Count This and Lady That, the police moved away. They were all very tall and very good looking, witty and charming. It was very attractive. They had freedom to do exactly what they wanted to because they didn't care about anybody else and were very disdainful."
She socialised with Andy Warhol and Ralph Lauren, and stayed with Mick Jagger for a couple of years until she met her husband, Rick. They travelled on together to a lonely part of Scotland, where she discovered that the local women loved knitting so much that they'd unpick the garments they'd just completed only to start all over again.
Rohde was joined by Stacey Stent in a fascinating and enjoyable conversation that covered some of the amazing turns her life has taken. Stent, a political cartoonist, spoke about her connection to the author that went back to their girlhood. She had been on the receiving end of Rohde's hand-me-down clothes a child. "Hillary was a trailblazing legend already as a teen," she said.
Rohde discussed how she came to writing once she'd sold her business. "I was living in three different places and needed continuity. "I embarked on an open university course and started writing. It didn't matter then where my body was because my head was always in the same place," she said. Over the years people had told her she should write down the stories she told them. "Once I started writing I was never stuck for a subject. I drew on my own experience. I wrote bits and pieces, strung them all together, and here we are."
Rohde read various extracts from the book including a remarkable tale of how she came to supply handknitted sweaters – each of which took some 100 hours to knit – to Bloomingdale's. The author signed copies of her books for the host of eager readers that filled the shop.
* * * * * * * *
Liesl Jobson (@LieslJobson) tweeted from the launch using #livebooks:
Hillary Rohde: Ordinary girl from CT goes to Scotland, meets Mick Jagger, a long yarn that needles those gathered… #livebooks

— Liesl Jobson (@LieslJobson) July 8, 2013
Hillary Rohde: The 'aristos' were friends with Mick Jagger. I stayed there. It was very nice most of the time. #livebooks

— Liesl Jobson (@LieslJobson) July 8, 2013
After living with Mick Jaggers for some years Hillary decided to move on. Headed north to Scotish highlands overlooking Lochness. #livebooks

— Liesl Jobson (@LieslJobson) July 8, 2013
It was a pivotal life-changing move for Hillary Rohde. She met Rick, the man with whom she would have children. #livebooks

— Liesl Jobson (@LieslJobson) July 8, 2013
When Hillary Rhode discovered point of knitting her life's purpose took off. She'd been wearing rags for years but loved clothes. #livebooks

— Liesl Jobson (@LieslJobson) July 8, 2013
Hillary Rohde tells @StaceyStent amazing tale of making 60 sweaters for @Bloomingdales wi local knitters. #livebooks pic.twitter.com/Hbt7HkUWXv

— Liesl Jobson (@LieslJobson) July 8, 2013
Hillary confesses: I have never knitted a jersey in my life. She had 300 people who would knit for her. Some could manage 2/wk. #livebooks

— Liesl Jobson (@LieslJobson) July 8, 2013
* * * * * * * *
Facebook gallery
Book details