Zapiro and Mike Wells Launch VuvuzelaNation at The Book Lounge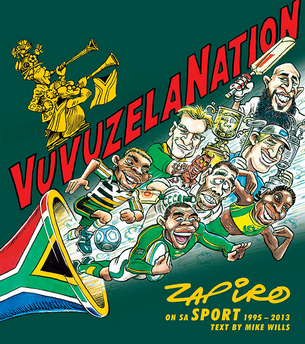 Rarely has The Book Lounge been as full as it was last night for the launch of VuvuzelaNation: Zapiro on SA Sport 1995-2013 by Zapiro (Jonathan Shapiro), with text by Mike Wells. Large screens were erected in both seating areas, upstairs and downstairs, with a record number crammed inside to enjoy the presentation. The sparkling wit and rapid fire repartee between the authors kept everybody dabbing tears of mirth as the authors inspected the hilarious history of South African sports.
Mervyn Sloman welcomed the authors, reflecting that this book was a departure from Zapiro's previous publication pattern. It is a book solely devoted to the "rollercoaster of South African sport which permeates everything in our life in this country."
This book also has more words than the typical Zapiro cartoon collection, said Sloman. "We have journalist and broadcaster Mike Wells to thank for that. The way they've dovetailed each other makes this a remarkable book," he said.
Wells described Zapiro as a genius, who is the most extraordinary combination of journalist, stand-up comic and artist, with a huge dollop of courage. He said the book contained a cast of characters that offered "Manna from cartooning heaven. It begins with the fearsome Jonah Lomu and the even more fearsome Louis Luyt, portrayed as King Louis XIV in a magnificent cartoon through Andre Markgraaff and the 'K-word', Hansie and the devil, Herschell and the dagga, Benni McCarthy and the nightclubs. The list goes on and on!"
Wells said that virtually everybody associated with Bafana Bafana, SAFA, Cricket South Africa and SA Rugby was ripe for cartooning. "Jonno has been busy with them year in and year out: Caster Semenya, Peter de Villiers (Jonno has been mourning his departure from the national scene every day … The man was a living-breathing cartoon), through Seth Blatter – aka Septic Bladder! – on into the all too South African story of Oscar Pistorius, it's all in VuvuzelaNation, captured brilliantly!"
Wells spoke of the process of selection. There are 240 cartoons in VuvuzelaNation, with more than 150 on the cutting room floor! Zapiro spoke of how vital it was to have a good concept for a cartoon. He said, "A crap idea can't be carried off by a good drawing. The communication is the most important thing. I try to get that right. A good idea can be carried by weaker drawing. I'm not the first to say this."
As they collated the book, Zapiro said he'd enjoyed a series of interesting debates with Wells about what should go into the collection. "I wanted cartoons that had an angle others didn't pick up on, I wanted something that would stand the test of time, that had historical significance, yet was of the moment."
A series of cartoons from the collection were visible on screens at the launch and the authors talked about why they'd chosen those particular images. With the striking image of Oscar Pistorius, Zapiro said, "Oscar Pistorius is a riches-to-rags story. He was an unbelievable hero world-wide. A number of cartoons featuring him appear in the book. The last one has the word 'ICON' above the athlete. Blood crosses out 'I'. We're left with the 'con'…"
The evening ended with a long queue of fans waiting to get their copies signed by the duo of authors. Everyone who bought a book enjoyed a kind word or shared an anecdote on this sparkling evening.
* * * * * * * *
Liesl Jobson tweeted live from the launch with #livebooks:
The @book_lounge is filling up already for the launch of @zapiro's latest collection of cartoons, Vuvuvzela Nation. @JacanaMedia #livebooks

— Liesl Jobson (@LieslJobson) July 23, 2013
@Zapiro setting up his presentation before the launch of Vuvuzela Nation at @book_lounge. @JacanaMedia #livebooks pic.twitter.com/EiKXEdCA1z

— Liesl Jobson (@LieslJobson) July 23, 2013
@Zapiro is sports fanatic. Is it his safety net when politicos arent actually behaving badly? He'd do more if he had the chance. #livebooks

— Liesl Jobson (@LieslJobson) July 23, 2013
@Zapiro saw some off-the-wall cartoons. Mike Wills effected the unlinkable images with a touch of irony too! #livebooks

— Liesl Jobson (@LieslJobson) July 23, 2013
The Jonah Lomu Quiz, dated 23/6/95 by @zapiro in Vuvuzela Nation. @JacanaMedia #livebooks pic.twitter.com/5KEX28j6Fg

— Liesl Jobson (@LieslJobson) July 23, 2013
@Zapiro praises the colour technique of http://t.co/qCXTQr7enj. pic.twitter.com/gBUS34RoJu

— Liesl Jobson (@LieslJobson) July 23, 2013
@zapiro talks about inspiration of Brian Habana's classic dive. #livebooks @JacanaMedia pic.twitter.com/M97vwAdLZd

— Liesl Jobson (@LieslJobson) July 23, 2013
@zapiro had gone to the parade in Cape Town to hear announcement of Olympics to… Athens. #livebooks @jacanamedia pic.twitter.com/yMsXF1h8O6

— Liesl Jobson (@LieslJobson) July 23, 2013
@zapiro demanded "The Devil Made Me Do It" as a title the year Hansie Cronje got nailed for match fixing. #livebooks pic.twitter.com/zrAU02EVJk

— Liesl Jobson (@LieslJobson) July 23, 2013
@zapiro recalls Seth Blatter, rich mine of cartoon material for 2010 Soccer World Cup. #livebooks @JacanaMedia pic.twitter.com/efNhSHo4Vy

— Liesl Jobson (@LieslJobson) July 23, 2013
Hilarious recollection of Portuguese soccer coach, Carlos Queiroz, who understood little English. #livebooks @zapiro pic.twitter.com/Px3F0kNfHX

— Liesl Jobson (@LieslJobson) July 23, 2013
Tour de France cartoon shows all the rumpus over drugging. #livebooks #VuvuzelaNation @zapiro pic.twitter.com/oopdxwBAvO

— Liesl Jobson (@LieslJobson) July 23, 2013
* * * * * * * *
Facebook gallery
Book details