Zukiswa Wanner Presents Maid in SA: 30 Ways to Leave Your Madam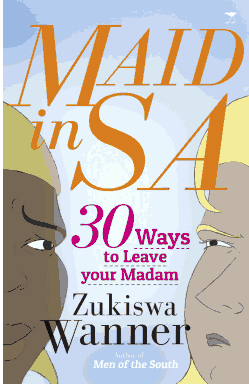 New from Jacana, Maid in SA: 30 Ways to Leave Your Madam by Zukiswa Wanner:
It's a scene most South Africans are familiar with; something that adds that oomph to your social status as a South African woman. This is a laugh-out-loud take on a woman's home, but is as serious as the security guards in gated communities. It is a quirky look at the women in our lives; our mothers, our sisters, our cousins, our friends, us. It's the relationship between maids and their madams.
Maids in SA takes a lighter look at one of South Africa's most important yet most often overlooked relationships of all: that between a domestic worker and her madam. Seen from both perspectives, the book takes on real conversations with both helpers and employers.
This delightful book offers a never-before-seen description of types of madams and their families on one hand, and types of helpers on the other. Through these introductions and distinctions, you will not only learn the differences between the city or town helper, but also about the quirks of the Malawian or Zimbabwean helper. In addition, you discover invaluable truths about maid-madam relationships, including why helpers leave; how to tell the difference between old money and the nouveau riche; and that there is only one type of black madam – the middle-class African madam, because the rich African madam, as well as her Indian and white counterparts, have transcended race.
About the author
Featured in M&G's 200 Young South Africans List 2009, Africa Report's People to Watch 2010, and M&G's Book of South African Women 2010, Zukiswa Wanner is a thirty-something-year-old writer whose other name could be Prolific. She much prefers Castle Lites on the veranda on a sunny day to pina coladas and getting caught in the rain. When she grows up she wants to write a single offensively terrible novel which will become a bestseller and be turned in a Hollywood movie. Just like that Fifty Shades person whose name she chooses to forget.
Book details