Excerpt from Maid in SA: 30 Ways to Leave Your Madam by Zukiswa Wanner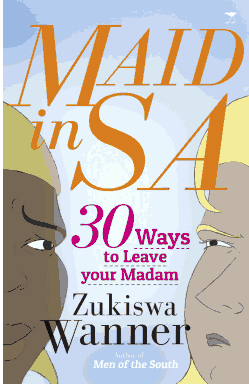 "South African 'old money's' ideas of social gatherings are charity balls and fundraising teas," writes Zukiswa Wanner in Maid in SA: 30 Ways to Leave your Madam, her humorous exploration of the relationship between domestic workers and their employers. In this excerpt, published in The Times, Wanner breaks down the differences between the Nouveau Riche Madam, the Old Money Madams, and the Poor African and Middle Class African Madams.
"What looks like money is not always the real thing," Wanner writes of the nouveau riche. "They use your 'friendship' and the guilt you feel for receiving expensive designer clothes to never pay you on time." The old money is where you want to be working: "You will leave for one reason only: When you are retiring."
Read the excerpt:
THE NOUVEAU RICHE MADAM: They are consumed with "image" and showing that they have "arrived".

They have no problem swiping their credit card at a Sandton boutique to buy a watch for R200000. Or throwing an all-white party that costs millions. Yes, millions. One party. The nouveau riche work on reputation because South Africa, both black and white, is in awe of rich people who look like they have so much money they don't know what to do with it.
Book details