JP Landman to Launch The Long View at Love Books in Melville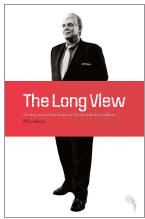 Love Books is delighted to invite you to an evening with renowned trends analyst JP Landman, around his new book The Long View.
Landman will be in conversation with Donald Rogan of Nedbank Private Wealth.
See you there!
Event Details
Date: Thursday, 26 September 2013
Time: 6:00 PM for 6:30 PM
Venue: Love Books
The Bamboo Lifestyle Centre
53 Rustenburg Road
Melville | Map
Guest Speaker: Donald Rogan
RSVP: kate@lovebooks.co.za, 011 726 7408
Book Details