David Attwell, with Finuala Dowling, Launches JM Coetzee and the Life of Writing at Clarke's Bookshop
Many writers, academics and friends of the author crowded into Clarke's Bookshop for the launch of JM Coetzee and the Life of Writing by David Attwell, a South African JM Coetzee scholar of international repute based at the University of York. The author was joined by local poet and author Finuala Dowling in a witty and erudite conversation that held the audience enthralled.
Dowling spoke of her delight at having witnessed the genesis of this book over the years. Just last year Dowling was in conversation with Attwell at the UCT Summer School Extension Programme, where he spoke on the topic "Autobiography Into Fiction" in Coetzee's novels, Disgrace and the Life and Times of Michael K.
Dowling says the fascination for her lay in how Attwell had excavated Coetzee's distinguished authorship in a way that "uncovered and revealed how we get to tell great stories, about the life of writing and fictional practice."
"A great authorship has to start somewhere," Dowling said, and invited Attwell to read an extract that reflected a "day one" in Coetzee's existence as a writer. Attwell opened to the epigraph to the third chapter of JM Coetzee and the Life of Writing, which comes from one of the notebooks held in the archive at the Harry Ransom Center at the University of Texas.
Penned around 1978, from one of the notebooks to his third novel, Waiting for the Barbarians: "Every morning since the first of January 1970 I have sat down to write. I HATE it."
Attwell and Dowling reflected on how this brief extract illuminates the genesis of Coetzee's work and the quality of the deliberation involved in his writing, the lack of pleasure, self-scrutiny, self-interrogation and self-laceration that goes into it. "As well as the discipline and determination," Attwell said. Coetzee had been preparing himself to write fiction for a long time, taking endless notes about the history of exploration at the Cape, doing a PhD in linguistics, as well as writing some poems.
"He had committed himself to the vocation of 'writer', but he didn't quite know what that meant," Attwell said. In a discussion that lasted well over an hour, these two authors teased out the significance of the notebooks which are available to Coetzee scholars, the enormous disappointment he faced at Nadine Gordimer's criticism of him, and the manner in which he employs animals as a metaphor in expressing tropes that risk becoming stale.
For those who missed this generous and intriguing discussion, a video link courtesy of Litnet is available: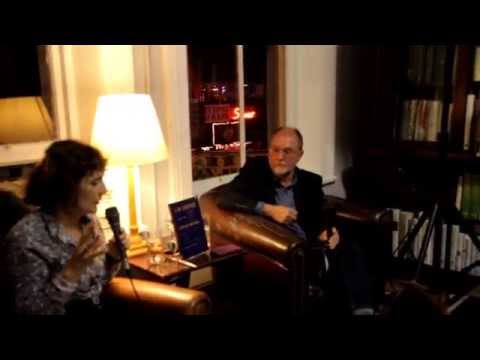 * * * * * * * *
Liesl Jobson tweeted live from the event using the hashtag #livebooks:
* * * * * * * *
Facebook album
Book details