Nakhane Toure's Debut Novel Piggy Boy's Blues Is "Magic" – Pumla Dineo Gqola
Known for his music, SAMA award-winning musician Nakhane Touré is changing tune with the release of his debut novel, Piggy Boy's Blues.
Pumla Dineo Gqola, Professor of African Literature at Wits University, says "Piggy Boy's Blues is a tour de force", adding: "Rendered in exquisite prose that guides readers through the devastating knots of past and possibility, Nakhane Touré's debut novel is magic."
The novel, which has been described as reading fragments of a recurring dream, centres on the disastrous consequences of a man's return to his Eastern Cape home town of Alice. Touré's work is poetic with sensuous prose, and publisher Thabiso Mahlape, who heads up Jacana Media's recently launched new imprint BlackBird Books, says she was delighted by Touré's style, calling him an "all-round artist".
An overarching theme of the book, Touré says, is its exploration of the spiritual lives of black people. "You can see it in the characters, whether they are good or bad," he says.
There is also the normalisation of gay sex, which Touré says he tried to achieve by "writing about it in the plainest language possible".
Touré credits K Sello Duiker as "having opened up the gates for me to walk through". He locates the three main protagonists of his book via a retelling of family trees. Able and deft, with an already recognisable voice, he admits to being "inspired by the episodic structure of the Bible, especially Genesis".
Watch a video of Touré reading from the launch: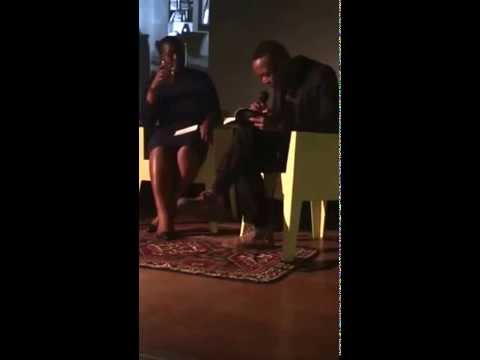 * * * * *

Richmond Sajini (@richmondsajini) tweeted live from the event:
* * * * *
Also read:
Book details